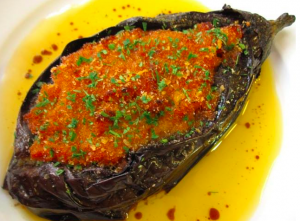 Ιngredients
6 eggplants,  not too thin
3 big onions
4 ripe tomatoes, grated
6 garlic cloves
1-2 potatoes
1 bunch of parsley
salt
pepper
1 cup olive oil
Send-A-Scent Aromatic Spearmint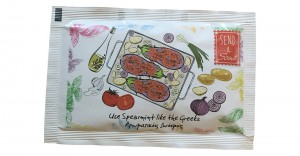 Directions
Peel the eggplants without removing completely the stem. Carve with a knife vertically from top to bottom without cutting them in half.  Put them in a light brine for half an hour to take away any bitterness.
At the same time prepare the sauce: In a deep skillet or shallow pan fry the onions cut into thin slices with half the olive oil. When wilt and transparent, add the garlic, pepper and the grated tomato. Season to taste. Bring the sauce to over medium heat for a quarter of an hour. Add the parsley and the Send- A-Scent  Aromatic Spearmint.
At the same time we can fry the eggplants. Pour the remaining olive oil to burn, drain the eggplants and fry lightly, turning them from all sides. They must soften slightly and then opened to add the ssauce. So while in principle the temperature is high, lower in moderate to avoid burn. If necessary add some extra olive oil.  Stuff with the sauce, as much as possible and line them in a pan.
Peel the potatoes, cut them and put them in the remaining suace.  Place them in the pan inbetween from the eggplants. Pour the remaining sauce over the ingredients in the pan and place in the oven at 180 degrees.
Bake for 40-45 minutes or until the onions and the eggplants are completly cooked.