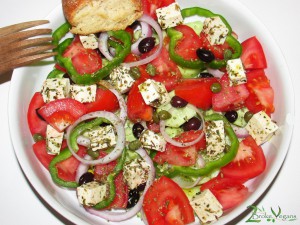 For a delicious Greek tomato salad (traditional  "choriatiki") you can use the following ingedients:
2-3 ripe and firm tomatoes
1 cucumber cut into rings
1 green pepper cut into rings
1/2 red onion sliced into rings
5 olives preferably without pits
1 tea-spoon capers
100 grams feta diced
1 tablespoon vinegar
3-4 tablespoons olive oil
salt
Send-A-Scent Cretan Aromatic Oregano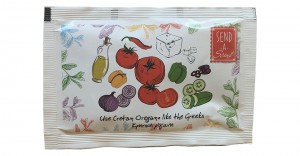 Directions
Cut the tomatoes first tin half horizontally and then each half in smaller pieces and place them ina salad-bowl.  Add the cucumbers, the peppers, the capers, the onion,  salt and vinegar.   Mix them together and then add the cheese that we cut into dice, the olives and the aromatic Cretan oregano we find in the postcards Send-A-Scent.  For more color, add colored peppers (yellow or red). Buon appetite!